Sydney
350px

Description
Appears In
2 & 3
Sydney
is a port available to the player in the first two game -
Chocolatier
and
Secret Ingredients
. In both games, Sydney is the last port opened to the player. It also contains the last factories in each game.
Chocolatier
Edit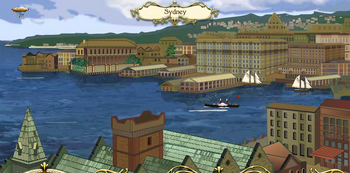 The player is sent here to meet up with Rowena Baumeister. Even though opened last, it is still a very important port as the last factory and Rowena is here.
Paddington Market: The locale market in Sydney. The player can buy various ingredients from Stewart Madden.
Circular Quay: where the player can meet several people. Raelen Graegan is eventually found here.
Sydney Mint: A location where the player can meet several characters. Nicole Llewlyn can occasionally be found here.
Secret Ingredients
Edit
Sydney, like in the first game, is the last port to be opened to the player.
Sydney Harbor Bridge: the locale in Sydney where the player can meet several characters in the game,
Harbor chocolates manufacturing: The sixth and last factory in the game. Mahakuli Kanagara runs the factory.
Wharf Market: The local market in Sydney . Carlyn Petersham sells her wares here, her wares are: Sugar, macadamia nuts, raspberries, oranges, cherries.
Quinn's Place: The locale in Sydney where Quinn Madden can be found.
George Street Chocolate Shop: The local shoppe in Sydney. Rowena Baumeister is found here.