Sulawesi is a port in the first game, Chocolatier.
Chocolatier
Edit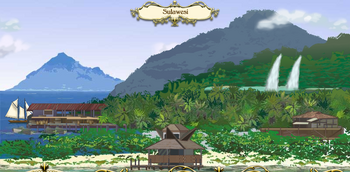 Central Sulawesi Market - the local market run by Matindas Soloy where the player can buy the ingredients - sugar, milk solids, cacao, almond, macadamia nuts, cherries, coffee, and truffle powder.
Makasaar Sweet - The local chocolate shoppe run by Pingkan Lasut where the player can sell his or her products.
Minahasa Highland - The player can meet Ruru Kalontah and other characters here.
Tanjung Farm - You can buy Sulawesi cacaos in this market, the seller is Wuaya Sarundayang
Ad blocker interference detected!
Wikia is a free-to-use site that makes money from advertising. We have a modified experience for viewers using ad blockers

Wikia is not accessible if you've made further modifications. Remove the custom ad blocker rule(s) and the page will load as expected.