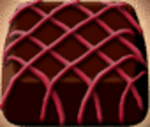 Squares are confections first seen in Chocolatier. In the first game, squares is the second confection type available.
In the second game, Secret Ingredients, squares is now the first type of confections the player can make.
Squares were dropped in the third game. Bars is again the player's initial confection.
Description (Chocolatier): Perfects for gifts and special occasions, these indulgent treats won't be soon forgetten.
Desciption (Secret Ingredients): Basic chocolates for eating, baking, and sharing.
List of Squares
Edit
Chocolatier
Secret Ingredients

Extra Dark Chocolate Squares
Dark Chocolate Squares w/ Cashews
Dark Chocolate Squares w/ Almonds
Hazelnut Chocolate Squares
Cherry Chocolate Squares
Cinnamon Chocolate Squares
Caramel Chocolate Squares
Milk Chocolate Squares w/ Hazelnut
Chocolate Squares w/ Coffee
Chocolate Squares w/ Mint
Chocolate Squares w/ Almonds
Cherry Squares w/ Vanilla
Cinnamon Chocolate Squares w/ Vanilla
Milk Chocolate Squares w/ Vanilla
Chocolate Hazelnut Squares w/ Vanilla
Chocolate Almond Squares w/ Vanilla

Basic Squares
Dark Chocolate
Milk Chocolate Squares
Chocolate squares w/ Almonds
Chocolate Squares w/ Oranges
Chocolate Squares w/ Hazelnuts
Chocolate Squares w/ Raspberries
Chocolate Squares w/ Lemon
Chocolate Squares w/ Cashews
Chocolate Squares w/ Pecans
Chocolate Squares w/ Coffee
Chocolate Covered Ants