London is a port in Chocolatier. It has the fourth factory in the game.
Chocolatier
Edit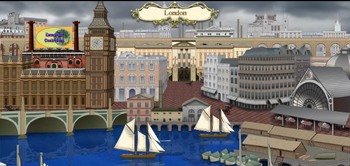 Upper Thames Market - Beatrice Knightsley owns this market. She sells Sugar, Milk Solids, Caramel, Almonds, Bing Cherries and Mint.
Big Ben Chocolates - A chocolate shop owned by Sir Albion Forester.
London Confectioners - The fourth factory owned by Claire Watson.
Buckingham Palace - This monument is greeted by Harold Crawley, a guard.
Ad blocker interference detected!
Wikia is a free-to-use site that makes money from advertising. We have a modified experience for viewers using ad blockers

Wikia is not accessible if you've made further modifications. Remove the custom ad blocker rule(s) and the page will load as expected.